Blanket Appeal
<![if !vml]>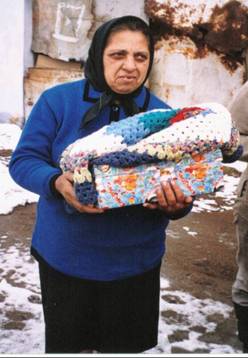 <![endif]>
Message from Rose Helie following the December 2010 distribution:
We have always known that blankets are highly highly valued and appreciated. The blanket shown in the picture above was crocheted by people at Willows day care Centre and taken to Romania in 2005, where it was given to a homeless woman squatting in a disused factory.
But now 5 years later the need for blankets is still as great. In December 2011, at a distribution in the city of Oradea I was shocked to see 2 respectable middle-aged women fighting over the remaining blankets, as both were desperate for them. After the social worker intervened, he explained that food and blankets were the most desperately needed among the poorest of the poor at that time of year.
OUR TARGET IS A MINIMUM OF 1,000 BLANKETS, IDEALLY 1,200 BLANKETS TO BE SENT ON OUR AUTUMN AND WINTER AID TRIPS in 2011.
                The priority is warm bed-clothes, hand made blankets, shop bought blankets, duvets, sleeping bags, etc these are all highly valued and desperately needed. Please note we need full size blankets, not knee blankets or baby blankets for this appeal unless several are sewn together. (The exact size is unimportant but the blankets should be large enough for a single bed or a double bed)
            Our collection places are:
<![if !supportLists]>Ø <![endif]>All Saints Church in St Helier open 10 till 12 Monday to Saturday
<![if !supportLists]>Ø <![endif]>St Peter's Church open 9 till 5 Monday to Friday.
<![if !supportLists]>Ø <![endif]>St Mary's Church open 10 till 4 Monday to  Saturday
<![if !supportLists]>Ø <![endif]>St Luke's Church (in Howard Davis Park) open on the mornings of Tuesday, Wednesday and Thursday.
<![if !supportLists]>Ø <![endif]>Occasional collections at Holme Grown Farm Shop carpark – watch for posters at Holme Grown and in the media.