Good News from Mustard Seed in August 2007
Often the news is bad, but in Mustard Seed we are glad we have good news to tell about opportunities and steady progress on many of our projects in Romania!
We are especially pleased with the success of our Homework Club in the village of Cefa which we run after school. Here we help and feed disadvantaged children many of whom had not attended school before.
<![if !vml]>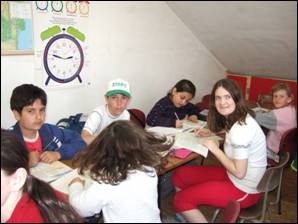 <![endif]>
As a result five of the older children, now teenagers have achieved high enough grades to qualify for the vocational high school in the city of Oradea. This means they should be able to get better paid jobs and so be free from the poverty cycle trap.
In the Cefa area a significant number of needy pensioners are now assisted through our Adopt-A-Granny sponsorship scheme. There are many many pensioners in need of help and sponsorship in other nearby areas, but not in the Cefa area, which shows the difference we make there.
There is good progress in our work among young people brought up in the state orphanages and often really damaged mentally and emotionally as a result.
There is superb progress at the boys hostel also at Cefa. While some young men have not stayed there long, since it opened in October 2005, one especially has turned his life around and is making excellent use of the opportunity given to him.
The young women in the sponsored apartments are all doing well and are now virtually fully independent, Since 2000 when we first became involved, two have married.
But for us the best news this year has to be that even though Romania is now in EU, we can still take aid to those in need without any import duty, as was feared. But now sadly we do see that the gap between the rich and poor seems even greater.
One result of joining EU has been a huge increase in prices for the basics of life, food, rent, fuel, medication, etc. in Romania. Our successful Project Relocate (where we re-house worthy families who are evicted through rent arrears and become homeless) simply cannot keep up with the need.
Yes we are encouraged, really delighted at the progress we see in the areas where we work. But for every one we help there are many others in need of help.
For us to continue that help until we are really not needed in Romania anymore, we do need help with funding – funds to take 3 more aid lorries to Eastern Europe this year, funds to build a home where homeless pensioners can live, funds to continue to run the various projects and programmes we have begun. As our motto says:
"Your help makes a difference".