GRATITUDE
"It is always so very humbling when people kiss your hand in gratitude at what they have received".
<![if !vml]>
<![endif]>
At Cefa all pensioners on the Adopt A Granny programme in the area came to the church on the Sunday afternoon. There they received a food parcel and a bag of clothing and bedding sent over Mustard Seed Jersey's last aid consignment. Mustard Seed Romania (our daughter charity) offers help with medical checks by employing a nurse part-time. The food parcels contained the basic foods and are highly valued by the pensioners.
HARD TIMES AHEAD
This was the big fear of many pensioners in both the city and the country villages. On June 1st all pensions were cut by 15%. affecting not only the elderly but all receiving medical pensions.
"We heard countless stories of pensioners unable to survive on the pension. One woman told us her month's pension was all gone on essential medicine and the utilities, within days and she had only enough money left to buy one loaf of bread on alternate days."
<![if !vml]>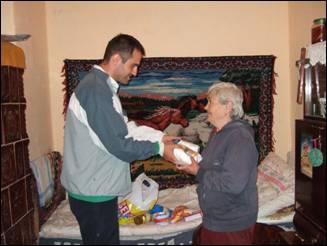 <![endif]>

"If they cannot manage now how will they manage with only 85% of what they had?"

WAGE CUTS & STRIKES

"Within an hour of arriving in Romania we were told of great concern and huge problems. From June 1st all state employees have a 25% cut in their salaries and must take a month's unpaid leave."

This resulted in planned strikes throughout the country starting on June 1st. One day the trams did not run, the next day half the schools were shut, the following day the university and the other  schools shut and so it continued. Only emergency surgery and medical treatment was possible, due to the increased workload.

<![if !vml]>

<![endif]><![if !mso]> <![endif]><![if !mso & !vml]> <![endif]><![if !vml]>

<![endif]><![if !vml]>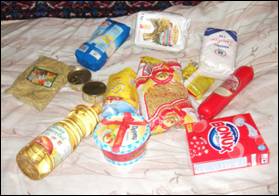 <![endif]>
The social workers said how much the recipients value the food parcels from Jersey.
PEOPLE SUFFERING
"We met the young women (brought up in state orphanages now in our sponsored apartments). They had been self supporting but not now. Prices went up but their wages did not. They told us that now without help  to pay the rent and a hot meal from the local church they could not manage. For the first time ever they asked if we could possibly help with food and toiletries, especially toothpaste."
<![if !vml]>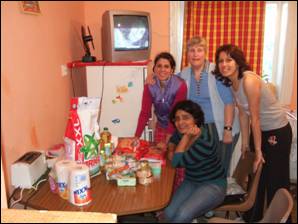 <![endif]>
"We went out and bought basic food and toiletries at a supermarket. We were shocked at the cost of toiletries, they cost more in Romania than in Jersey, but they earn less in a month than we would earn in a week."
STORY OF A TRAFFICKED VICTIM
Recently Mustard Seed Jersey has assisted victims of people trafficking. One repatriated victim (a mother with 3 very young children) wept with joy on receiving food, washing powder and disposable nappies. She was conned and went willingly with the traffickers believing she would be well paid and that this was the best solution for her family's need, but she was never paid.  Her husband is unskilled and earns under £100 a month, their only other income is £10 a month from the state for each child.   They live illegally in a single room, so could be turned onto the streets. They are so very very grateful for the help from Jersey.
WE BELIEVE EDUCATION IS VITAL
<![if !vml]>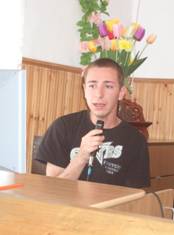 <![endif]>
Sebi is sponsored from Jersey to attend high school. Later he should be able to get a good job.
HOPE & NEW FRIENDS
"We were introduced to AGAPE who focus on educating and equipping teenage orphans for the future".
<![if !vml]>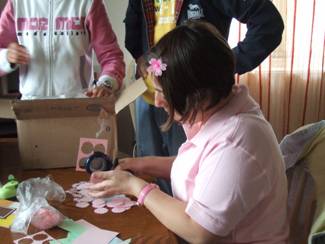 <![endif]>
They have set up a business making cards by hand and employ several orphans. It is their main way to raise funds.
"We were impressed with the love and practical care at Agape"
SHORT OF FUNDING
"We were shocked to hear Speranta Familiei are very short of funds. They have decided to convert half the building they own into a coffee shop which we hope will allow them to continue their outreach to single parents and other needy children."
"Privileged, humbled, rewarded, challenged, concerned" is how we would sum up our feelings after this trip to Romania.
"We are seriously concerned about the reduction in pensions for the most vulnerable and at how the general dissatisfaction in the country and ongoing strikes will end. As always we were privileged to go to Romania, we thank all our supporters and hope this report informs and encourages them and we thank God for bringing us back safely to Jersey" ~ Rose and Phil
SOME WAYS YOU CAN HELP:
<![if !supportLists]>§ <![endif]>Sponsor a pensioner on Adopt a Granny scheme (Just £16 a month makes a big difference)
<![if !supportLists]>§ <![endif]>Help us with fundraising for transport (costs us £3,500 to send 10 tonnes of aid)
<![if !supportLists]>§ <![endif]>Fundraise for a particular need or situation that really interests you.
<![if !supportLists]>§ <![endif]>Donate good quality clothes bedding, household items, etc.
<![if !supportLists]>§ <![endif]>Help with packing, sorting, collecting.
<![if !supportLists]>§ <![endif]>Have a coffee morning, a sponsored event, car-boot sale, suggest Mustard Seed Jersey as a nominated charity at your work place.
<![if !supportLists]>§ <![endif]>Use our divvy number 321340 when you shop at the Co-Op
<![if !supportLists]>§ <![endif]>Watch for publicity about Christmas shoeboxes in September / October.
<![if !supportLists]>§ <![endif]>Help us make scribble pads to go in the shoeboxes.
<![if !supportLists]>§ <![endif]>Pack a Welcome Box for a repatriated trafficked victim. (Cost approx £40 – details on website) We need more men boxes!
<![if !supportLists]>§ <![endif]>Pray for us
If you want Information about Mustard Seed Jersey please contact Rose