Mustard Seed Jersey Newsletter January 2012
 <![if !vml]>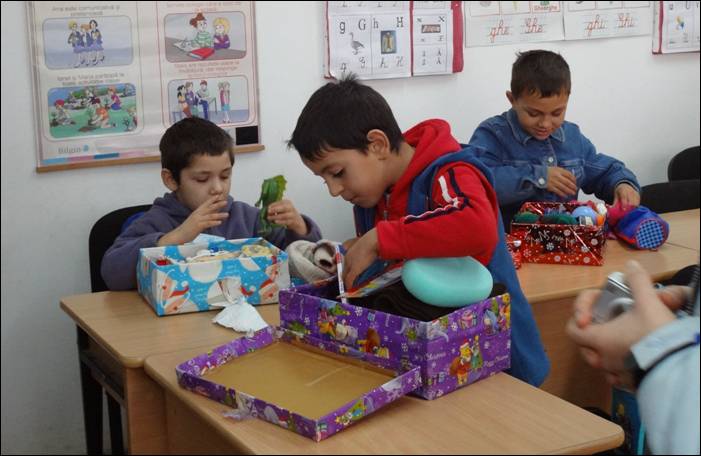 <![endif]>
"I have never seen anyone so grateful for anything"
This was the comment of one of the students from Beaulieu Convent School after her first experience of distributing Christmas shoeboxes in Romania in December 2011.
To all the people who packed Christmas shoeboxes, checked, transported, loaded, prayed, donated, provided space – to anyone who helped in any way a very big Thank you.
       There were 2,225 Christmas shoeboxes sent from Jersey. Over 1500 were for children, almost 400 were for pensioners and the remainder were for young men and women including repatriated victims of people trafficking.
       Mustard Seed Jersey's motto says YOUR HELP MAKES A DIFFERENCE and those 2,225 Romanians recipients would agree.
The December consignment of aid was the third and final of the year. Although it prioritised the Christmas shoeboxes more than half the trailer was filled with general relief aid.
<![if !vml]>
<![endif]>
When it came to unloading, one of the more challenging items was a sit-on mower – while in the trailer the front tyres had gone flat so at the unloading, steering and driving it down the ramp was very difficult!
That mower was an answer to Ken and Florences's prayer. To keep the grass suitably mowed for their kindergarten children was time consuming. They asked Rose about a sit-on mower, but she was dubious pointing out one was unlikely to be given. So Ken and Florence prayed and very soon afterwards the mower was given.
<![if !vml]>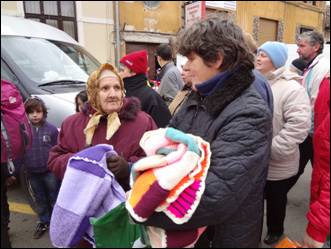 <![endif]>
The second priority on the December trailer was blankets. As a result of Mustard Seed's appeal for blankets we estimate over 500 blankets and duvets were donated. Special thanks to those day care centres & individuals who knitted so beautifully and lovingly.
As the result of Mustard Seed's Bread Appeal funding was given which should enable over 50 vulnerable families and individuals assisted by the charity FI (Fundatia Increderea) to have several loaves of bread each week this winter.
One of the most enjoyable shoebox distributions was to the pensioners who live at Casa Mabel, Mustard Seed's home for needy pensioners:
<![if !vml]>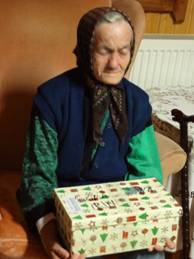 <![endif]>
The newest  resident at Casa Mabel wept, over-whelmed at being given a shoebox gift, saying she did not deserve it.
But at other times it was the Jersey team who felt more like weeping as they visited the homes of the neediest distributing shoeboxes and food parcels.
Below the team from Beaulieu Convent School at the hypermarket where they purchased the contents for the 90 food parcels they packed:
<![if !vml]>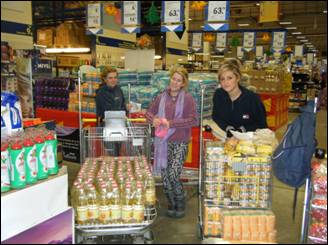 <![endif]>
<![if !vml]>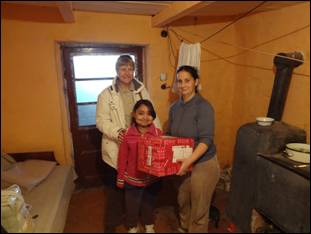 <![endif]>
For some of the poorest families the arrival of a food parcel literally meant survival. To receive a Christmas shoebox as well with "luxuries" such as soap and shampoo for the adults and colouring pens and toys for the children was a dream come true.
<![if !vml]>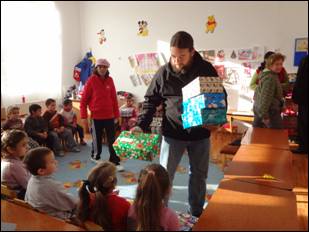 <![endif]>
Rose commented: "Going back to the same very poor schools is encouraging as slowly little by little we can see a small amount of progress. They now recognise us and proudly show how equipment we sent is being used by the children. We still have a lot more work to do".
As always Mustard Seed Jersey is looking out to find needs that we can meet.
The Jersey team assisted with the FI youth club for disadvantaged children.
<![if !vml]>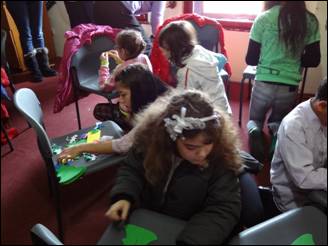 <![endif]>
What was lacking in equipment and facilities was made up for by enthusiasm, appreciation and love.
Mustard Seed has a number of outlets needing craft materials.
<![if !vml]>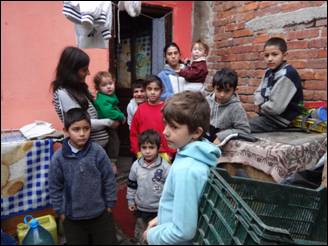 <![endif]>
We asked "How can 2 families with 10 children fit into a tiny two roomed dwelling?" But at least they had a home, unlike some we met.
<![if !vml]>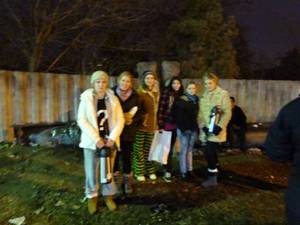 <![endif]>
This picture shows the Jersey team standing near the heating pipes where the homeless shelter at night. Nelu from the charity FI wants to have funds to provide sandwiches and hot tea to these homeless people on a regular basis in the evening.
The good news is that a donation from Victoria College in Jersey has made it possible for Nelu to start this programme.
"It was moving and shocking to see heads appear from between  the heating pipes as we drove along that evening".
       "After we had distributed all the tea and sandwiches we were able to go to MacDonalds for a meal and then to our hotel and a warm bed".
Illness, loss of job, and then failure to pay the rent mean families are made homeless.
<![if !vml]>
<![endif]>
It was at MacDonalds following the distribution to the street people that the students had the opportunity to meet members of the FI youth club. These Romanian teenagers had assisted with making & distributing sandwiches and tea.
       TIMEA is one of the FI youth club. Her family have been assisted by Mustard Seed Jersey for several years through  Adopt A Granny sponsorship scheme. But in spite of that help the family were still unable to have wood for heating. The Beaulieu students were very shocked to realise this and pledged to raise the money to provide them with firewood.
       Among the members of the youth club was Geta who was sponsored through high school by Mustard Seed donors. Due to family problems it is not safe for her to live at home and she and her friend Mariana (who is in a similar situation) now sleep in the school building during term time. Her aim is to improve her education so as to get a better job and break out of the poverty cycle.
        Another young person hoping to have better paid employment is Denisa (below)
<![if !vml]>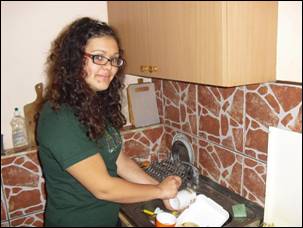 <![endif]>
Denisa lives in a village 10 kilometers away so must use public transport to get to high school. As the family have no money to spare for this, Denisa has not been able to go to school regularly. Happily money donated by Victoria College will be used to assist her.
We know of many other young people who need a helping hand to enable them to receive better education to have more opportunities.
In January 2011 Mustard Seed needed 3 replacement vehicles  to continue - tractor unit, trailer & lorry for local collections.
Two separate anonymous donations made it possible to purchase a lorry ideal for local collections and later a trailer which was first used for the December aid consignment.
<![if !vml]>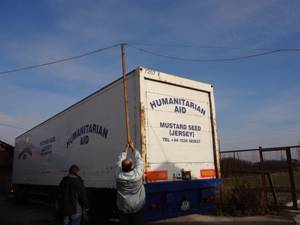 <![endif]>
(Yes Alex is lifting up the electric cables so the new and longer trailer can reverse in safely!)
<![if !vml]>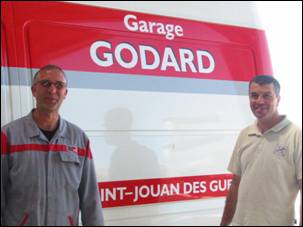 <![endif]>
Garage Goddard from Brittany continue to donate free use of a tractor unit for the aid trips – this is a tremendous saving to us!
GOODBYES
Sadly between November 2010 and June 2011 five volunteers & supporters died:
Terry – who helped us with many electrical problems, etc
Carol-Anne – wife of Ted, one of our drivers and sister of Sue who helps us with carboot sales.
Heather – one of the packers, always willing to tackle the dreaded shoes! (No-one likes packing shoes it seems!)
Sue – who went with George to Romania several times.
Phil – often called "Mr Mustard Seed".
A YEAR OF FIRSTS
Like in previous years 3 aid consignments were sent to Romania, one in the spring, one in the autumn and one in December. But there were 3 "firsts" for Mustard Seed drivers in 2011.
<![if !supportLists]>· <![endif]>The spring trip had 2 non-Jersey drivers – instead a French father/son team  who have long-standing links with Mustard Seed.
<![if !supportLists]>· <![endif]>For the autumn trip for the first time one of the drivers was a serving politician.
<![if !supportLists]>· <![endif]>For the December trip for the first time one of the lorry drivers was a woman.
MUSTARD SEED'S PLANS FOR 2012
We plan to send 3 or possibly 4 aid consignments to Romania – spring, then summer or/and autumn and December with Christmas shoeboxes. Because we have already been given 7 tonnes of roofing materials and a  similar amount of other building materials – all much needed in Romania as well as a quantity of hospital beds and medical equipment some of which is needed for Casa Mabel Mustard Seed's home for pensioners we HOPE it will be 4 trips this year. [Number of trips is dependent on availability of aid, funds, volunteer drivers, vehicles, etc.]
We plan to continue to send funding to Romania to run projects:
<![if !supportLists]>· <![endif]>Casa Mabel (our pensioners' home)
<![if !supportLists]>· <![endif]>Mustard Seed kindergarten and other education programmes (Homework Club & High School sponsorship)
<![if !supportLists]>· <![endif]>Medical programme
<![if !supportLists]>· <![endif]>Adopt A Granny pensioners outreach assistance programme
<![if !supportLists]>· <![endif]>Family sponsorship programme, etc.
<![if !supportLists]>· <![endif]>Food parcels for the poorest at Christmas and in the winter.
It is our policy to firmly encourage the Romanian trusts to become self supporting.
Mustard Seed Romania has begun running monthly bazaars to raise funds, using some of the new items we send for this purpose. This is proving a real service to the isolated community. We believe it gives the people their dignity to PAY a small amount for goods rather than to always be given them. Where there is hardship the people receive the goods at a much reduced rate. The bazaars have paid for the heating costs at Casa Mabel.
<![if !vml]>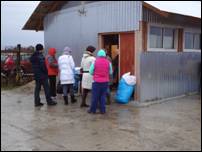 <![endif]>
On Dec 17th 2011 villagers queued in pouring rain to go to the Bazaar. 
But Mustard Seed Jersey is still responsible for the monthly salaries for one social worker, one teacher and one medical carer and we need to raise funds for those commitments.
We plan to continue to assist repatriated victims of people trafficking; for security reasons there is no report with pictures on this. The social worker was moved to tears as she spoke of the gratitude of the victims for the Welcome Boxes, Christmas shoeboxes and clothes from Jersey – it is only Mustard Seed who gives them material aid.