THANK  YOU  SO  MUCH  EVERYONE!
<![if !vml]> <![endif]>

FROM JERSEY TO ROMANIA:  1600+ children's Christmas shoeboxes, over 800 boxes for pensioners and 40 boxes for sponsored and assisted families and young people.
Once again the final total of shoeboxes was 2,500 – exactly the same number as last year.
        Included in that total were a number sent over from Sark.
        Christmas shoeboxes were donated to 5 different charities in the Bihor county of Romania. These Romanian trust in turn then passed them on to orphanages, poor families, needy pensioners, children at school.
        Most of the distribution carried out by the team from Jersey was with either Mustard Seed's daughter charity Mustard Seed Romania and the Romanian trust Fundatia Increderea.
        At each distribution we saw how much the shoebox is valued and appreciated. In the children  we saw anticipation, delight, excitement. Possibly most moving was the tears of joy on the pensioners' faces as they opened their boxes – to know someone cared enough to give and pack a box.
<![if !vml]> <![endif]>
Much of this information on the Shoebox distribution is also found on CHRISTMAS SHOEBOXES
<![if !vml]> <![endif]>

2008 is Mustard Seed Jersey's 10th anniversary year.
The charity was set up officially in March 1998 but the first aid consignment was sent later in the year.
In the 10 years Mustard Seed has sent an estimated 65 aid trips with over 700,000 tonnes of relief aid, including more than 42,000 Christmas shoeboxes. Aid has been taken to 6 countries in Eastern Europe, now the main focus is on Romania.
The last trip of 2008 was the fourth of the year and carried the precious cargo of 2,500 Christmas shoeboxes as well as clothing, beddiing, bicycles, beds, educational equipment, furniture, toiletries, medical equipment, etc.
<![if !vml]>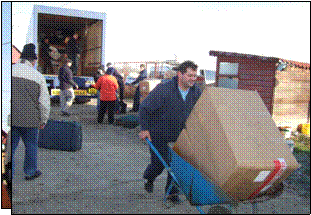 <![endif]>

POVERTY STRICKEN  DWELLINGS IN THE CITY CENTRE
One of the most disturbing visits to people assisted by Mustard Seed was with Nelu from the charity Fundatia Increderea, to a basement dwelling right in the centre of the affluent town of Oradea. Here in a single room (approx 2 metres X 4 metres) a teenage boy lived with his mother, with no sanitation, no natural light and a ghastly damp smell. The boy had an eye complaint. The mother (a poorly educated gypsy) could only find occasional work and the total income for the two was the equivalent of £90 per month of which they had to pay £40 in rent.
<![if !vml]> <![endif]>

<![if !vml]> <![endif]>

Mustard Seed Jersey working with Mustard Seed Romania has built a home for needy pensioners. Statistics confirm that pensioners are now the most needy group in Romanian society. In the winter approximately 100 pensioners benefit through Mustard Seed Jersey's Adopt-A-Granny sponsorship programme.
<![if !vml]> <![endif]>
In May 2007, when Alex Stroie from Mustard Seed Romania was in Jersey the appeal was launched to raise an estimated £65,000 to build the pensioner' home in Cefa. Thanks to the generosity of various sponsors and persistence of some fund-raisers, the full amount needed to build had been received by June 2008, and the funding  needed to run the home for 12 months had been given by the autumn of 2008. The wooden outer shell was erected in October. The heating system, electrics, plumbing, etc should be completed by Easter 2009, by which time we trust the first needy pensioners will be able to live there.
        The team from Jersey were able to to eat a meal inside the unfinished pensioners' home which was a huge thrill especially for   those who had been involved in fund-raising.
Please contact Mustard Seed Jersey if you are interested in our Adopt-A-Pensioner scheme, either by telephone  to 482637, mail to Mustard Seed, Cardiff House, St Peter, Jersey JE3 7EJ or email
FOOD PARCELS
Over £1,500 was donated to Mustard Seed Jersey to purchase food parcels and this was given to various Romanian trusts to purchase food. The main recipients were poor pensioners as they are unable to survive on their basic pensions, (whether they are old age pensioners or pensioners because of medical conditions). The food parcels were either distributed individually at people's homes or at a social gathering. It is all well organised with the Romanian charities keeping careful records to ensure it is the neediest who receive the precious parcels.
<![if !vml]>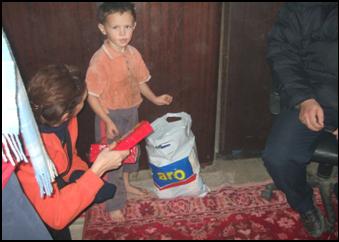 <![endif]>
The above picture shows a food parcel given to a struggling family who were in unexpected difficulties and urgently needed a food parcel in December 2008. The children were hungry and immediately began eating the biscuits we gave them. The husband/father lost his driving licence for a minor traffic infringement for 6 weeks which was a major problem as his only source of income was as a taxi driver. Sadly the day after he was able to have his licence back the finance company re-possessed the car.
This family is now assisted by Mustard Seed's Sponsorship programme, until they can be self-supporting.
Please contact Mustard Seed Jersey if you are interested in our Family Sponsorship  scheme, either by telephone  to 482637, mail to Mustard Seed, Cardiff House, St Peter, Jersey JE3 7EJ or email
WAYS YOU CAN HELP MUSTARD SEED JERSEY
        Practical Help with PACKING, LOCAL COLLECTIONS, LOADING, DRIVING, ETC.
        Donate needed items: good quality CLOTHES, BEDDING, TOILETRIES, STATIONERY, EDUCATIONAL EQUIPMENT, COMPUTERS, ETC.
Contact 482637 for details
of collection places and volunteering possibilities..
        Sometimes we need BUILDING MATERIALS, FURNITURE, COMPUTERS – for all larger and unusual items please contact us to check on needs.
        Help with FUND-RAISING either for projects or our biggest expense which is the transport costs.
        Other Suggestions: organise coffee morning, sponsored event, etc. - please contact 482637 to let us know what you're doing.
        Contact SUE ELSON or 856084 or Rose on 482637 or Barry on 722677 to donate goods for car-boot sales.
        Use our Co-Op dividend number 321340 when you shop at the Co-Op.
        Buy  Romanian honey & crafts we bring back
        PRAY for us – contact us to receive information for prayer.
        To receive UPDATES by email please contact coordinator.
Please telephone or email us or use the enclosed reply slip to contact us if you want more information on our sponsorship programmes and and other projects.