Mustard Seed Jersey Newsletter January 2011
THANK YOU
FROM MUSTARD SEED ROMANIA, FUNDATIA INCREDEREA, SPERANTA FAMILIEI, FUNDATIA CRESTINA VINEYARD, FUNDATIA AGAPE, CAMINUL FELIX & KATHY LANGSTON IN ROMANIA
2450 Christmas Shoeboxes
400 + Food Parcels
12 Tonnes clothing, bedding, household items, etc
All distributed to people in need in the Bihor county of Romania in December 2011.
<![if !vml]>
<![endif]>
<![if !vml]>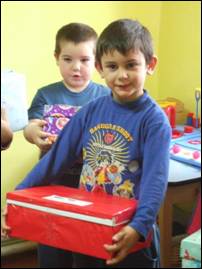 <![endif]>
At schools
<![if !vml]>
<![endif]>
After the pensioners' meeting at Cefa, the pensioners go home with their food parcels and Christmas shoebox.
THE CHRISTMAS SHOEBOX DISTRIBUTION IN CEFA
In the schools in the villages in the Commune of Cefa all the children received a shoebox gift in December 2010. It was such an important event that the Mayor attended each school distribution
<![if !vml]>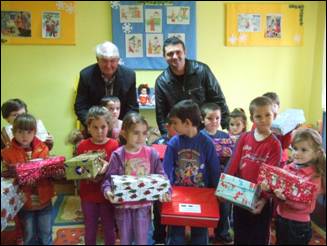 <![endif]>
At each school it was explained that the Christmas shoeboxes had travelled from Jersey some 2000 kilometers away. In most schools the children presented some traditional seasonal songs.
<![if !vml]>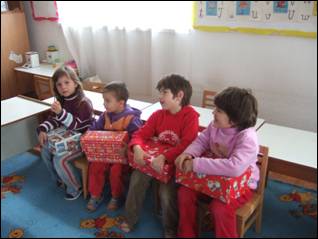 <![endif]>
<![if !vml]>
<![endif]>
Mustard Seed Jersey first began assisting in Cefa in 2000. There were no computers in the schools there and the first computers were donated from Jersey.
It is a sign of progress to see that now in those same schools there were now computer rooms.
<![if !vml]>
<![endif]>
As a sign of his appreciation the Mayor of Cefa took the team from Jersey out for a traditional meal after the shoebox distribution in the schools.
CASA MABEL ~ Mustard Seed's pensioners' home
<![if !vml]>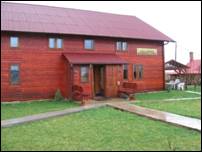 <![endif]>
In May 2009 Casa Mabel was opened in the village of Cefa. The first elderly ladies moved in in the autumn.
Initially the elderly ladies lived downstairs while the young women (previously living in the sponsored apartment) were upstairs.
<![if !vml]>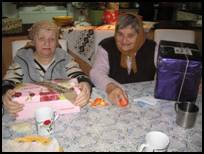 <![endif]>
They all ate together and while the younger ones adopted the elderly as their  grandmothers – with the older ones advising the young women and the young women gently assisting the more frail of the elderly. 
The young women are all orphans and one made a moving statement "When I was small I had no grandmother but now I have many and I love them all".
<![if !vml]>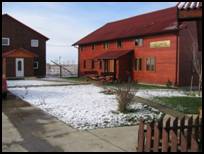 <![endif]>
In the autumn of 2010 Casa Aura was opened next door to Casa Mabel and the young women moved next door.
The young women sleep in Casa Aura and play their music there, but eat at Casa Mabel and spend much of their time there too. The young women all are self-supporting and have paid employment.
<![if !vml]>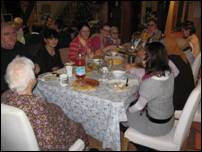 <![endif]>
Now the more able elderly ladies have rooms upstairs. A stair-lift has been installed which can be used if needed.
<![if !vml]>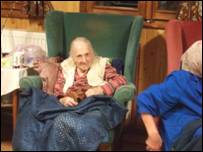 <![endif]>
       The placque attached to the wall of Casa Mabel translates: Casa Mabel a home of love joy peace and hope.
FUNDATIA INCREDEREA (Incredible Foundation)
In 1995 this Romanian foundation known as FI for short was set up specially to offer education concerning the dangers of alcohol and substance abuse, counselling and assistance to those affected by addiction.
Mustard Seed Jersey began assisting FI soon after Mustard Seed's first aid trip to Romania. Now the education and counselling continues in FI but the outreach to the poorest of the poor has grown tremendously.
<![if !vml]>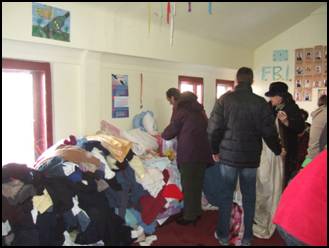 <![endif]>
       When FI receive aid from Jersey, the social workers advertise there will be an aid distribution to which those in need are invited. Each must bring proof of income to ensure it is only those who are genuinely extremely poor who receive this help.
<![if !vml]>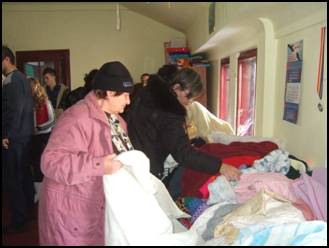 <![endif]>
       The social workers Nelu and Cristina reckon that over 4 days, between 300-400 people are helped.
       Blankets are most highly valued and so had to limited to one per person. As the blanket stocks ran low, two clients were almost fighting over the remaining blanket.
       Many wept with joy and gratitude and found it hard to believe that the aid was freely given without payment.
<![if !vml]>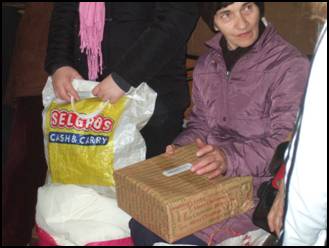 <![endif]>
Mustard Seed's motto:
Your help makes a difference
GOODBYE TO FAITHFUL VEHICLES!!!
During 2010, Mustard Seed Jersey has sent 4 aid consignments to Romania (estimated 48 tonnes).
<![if !vml]>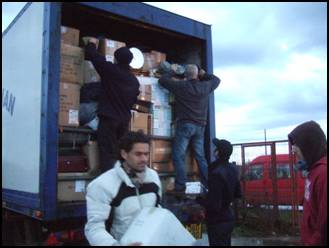 <![endif]>
Unloading in December 2010
"Bertha" (Mustard Seed's FL10 tractor unit which has pulled the aid trailers since 1999) developed several major expensive problems in 2010.
<![if !vml]>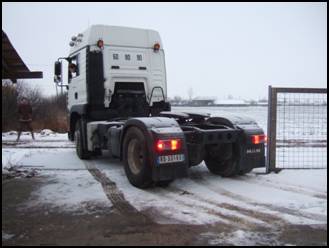 <![endif]>
Unexpectedly Garage Sarl Godard (a French haulage company) heard of the need and very generously offered the free use of a tractor unit for 3 aid trips per year. 
The December trip was the last trip for the trailer (pictured below), as that was now below standard for the roads and so was donated to Mustard Seed Romania for storage.
<![if !vml]>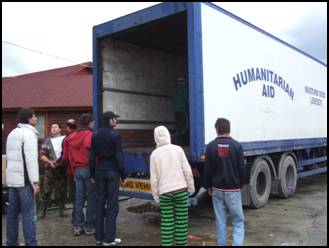 <![endif]>
Also in 2010 the vehicle used locally for collections & loading in Jersey developed numerous problems and so with regret it was realised a replacement was needed for the vehicle pictured below:
<![if !vml]>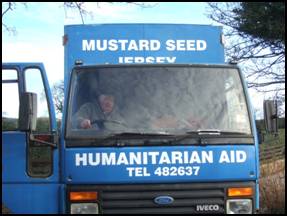 <![endif]>
Needless to say it will be a top priority in 2011 to resolve out the vehicle problems.
MUSTARD SEED'S SPONSORSHIP PROGRAMMES
Mustard Seed Jersey's most successful sponsorship programme is the Adopt A Granny programme for pensioners. Elderly Romanian pensioners on the basic state pension receive so little they cannot survive. Half the pensioners on the Adopt a Granny programme are medical pensioners. These have been classified as  unable to work for health reasons, not allowed to have any part-time work without forfeiting their meagre medical pension. Like the elderly the medical pension is too small to live on.
Mustard Seed seeks to link sponsors to pensioners and approaching 90 pensioners are sponsored from Jersey. The donated money is used month by month to assist the pensioner. The social workers discuss with the pensioner what the priority is each month, usually food, but sometimes fuel or medication. The need is greatest in the winter, and some sponsors adopt their pensioner for the 7 coldest winter months.
WE HAVE A WAITING LIST OF PENSIONERS NEEDING SPONSORS.  
Adopt a Granny Sponsorship details.
Adopt a Granny Response sheet.
<![if !vml]>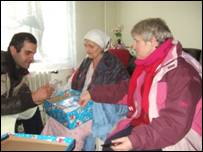 <![endif]>
Delivering a food parcel and Christmas shoebox to a housebound elderly pensioner.
<![if !vml]>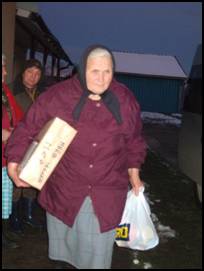 <![endif]>
Going home with food parcel & box after pensioners' meeting
Mustard Seed Jersey also has sponsors for children's education and for needy families struggling with disabled children or other specific needs.
<![if !vml]>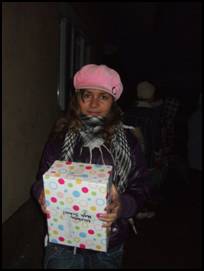 <![endif]>
Sponsorship enables this girl to go to high school.
Sponsorship education & family.
Response sheet Sponsorship education & family.
MUSTARD SEED'S PLANS FOR 2011
We plan to send 3 or possibly 4 aid consignments to Romania – spring, then summer or/and autumn and December with Christmas shoeboxes. [Number of trips is dependent on availability of aid, funds, volunteer drivers, vehicles, etc.]
The Romanian social workers tell us the second hand clothes, bedding, etc. that we send are of a far higher standard than they can obtain in-country, so we are keen to continue sending aid to the country as long as we are able.
The other way we help is by sending funding to Romania to run projects:
<![if !supportLists]>· <![endif]>Casa Mabel (our pensioners' home)
<![if !supportLists]>· <![endif]>Mustard Seed kindergarten
<![if !supportLists]>· <![endif]>Other education programmes (Homework Club & High School sponsorship)
<![if !supportLists]>· <![endif]>Adopt A Granny pensioners outreach assistance programme
<![if !supportLists]>· <![endif]>Family sponsorship programme, etc.
<![if !supportLists]>· <![endif]>Food parcels for the poorest at Christmas and in the winter.
It is our policy to firmly encourage the Romanian trusts to become self supporting. But we are still responsible for the monthly salaries for one social worker, one teacher and one medical carer and need to raise funds for those commitments.
We plan to continue to assist repatriated victims of people trafficking, but for security reasons there is no report on this.
In June 2010 all pensioners lost 15% from their pensions as part of the Romanian government's cost cutting measures.
Also in June all government employees (including nurses, teachers, etc.) lost 25% from their salaries. Government employees now have to take one day a week enforced unpaid leave.
Costs in Romania continue to rise. Toiletries cost more than in Britain, food is slightly cheaper in Romania. The basic salary is in the region of 200 euros a month.